Details

Category: All Categories
Published on Wednesday, 06 April 2022 10:38
Hits: 4497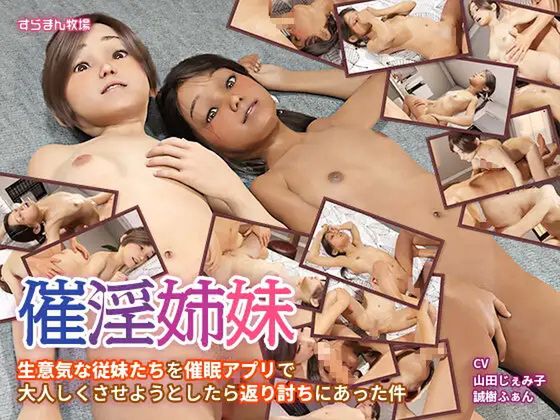 I had to spend a few weeks alone with my sisters and myself. Now I'm in trouble ...!
Summer vacation. Her parents and uncle have all decided to go on a long trip.
It's nothing in itself, but it's hard because I had to take care of my two sisters during that period.
Cheeky servants ... and sometimes annoyed, but that's not a big deal.
The biggest problem is that the two bodies are so sexually appealing that it's poisonous to me as a lolicon.
Living with them for weeks under one roof seems to make me crazy.
I want to keep my spirit by masturbating, but if there is a guy who rushes into my room without notice, I can't masturbate alone.
In trouble, I prepared a hypnosis app that is rumored in the streets.
I'm not trying to hypnotize anything erotic. I just want them to be quiet enough to masturbate--
-I didn't know. That my sister has a different hypnosis app from mine, and that hypnosis app is directed at me ...
● Voice appearance
Tamaki: Jemiko Yamada
Mizuki: Fan Masaki
specification
● Video part and novel part
This work consists of a video part depicting a sex scene and a visual novel part depicting a story.
● Windows application version and mp4 video version are included as a set
The Windows app version works on Windows 10. The mp4 video version is compatible with smartphone viewing.
Even in an environment where the Windows application version cannot be viewed, all video parts and novel parts can be viewed with the same mp4 video file.
-Includes an excerpt version of the H video scene only
For ease of use, only the video parts of the sex scene are summarized as individual mp4 video files for each play.
* The trial version is also created with the same specifications. Please check the trial version to see if it can be viewed in your own environment.
My sister Tamaki and my sister Mizuki-the two girls are about to have more sexual desire than the main character.
They couldn't stand it with the "hypnosis app" in their hands.
A few weeks spent alone with my older cousin, who had a faint favor for a long time. The two carry out the plan, leaving it to their curiosity and desire.
The protagonist, whose body is required by such two people, is also forced to release her sexual desire by the power of her hypnosis ...
This work has not only one-on-one sexual intercourse with Tamaki and Mizuki, but also a 3P scene.
The play contents drawn in 41 motion 107 cuts are as follows.
01 Handjob / Blowjob (Tamaju / Facial)
02 Face-to-face sitting position (Tamaju / Creampie)
03 Fucking / Cowgirl (Mizuki / Creampie)
04 Missionary (Mizuki / Creampie)
05 3P Part 1 (Creampie)
06 Doggy style (Mizuki / Creampie)
07 Missionary position (Tamaju / Creampie)
08 Deep Throating (Mizuki, oral ejaculation)
09 Belly missionary position (Tamaju / Bukkake)
10 3P Part 2 (oral ejaculation)
For the first time in this circle, we adopted breast physics using physics simulation in this work. As a result, the movement of milk is much more realistic than the past works of this circle.
Not only the boobs of my sister Mizuki, but also the little sister Tamaki shakes firmly.
(I think it is difficult to convey with still images, so please see the sample video and trial version)
The deformed expression of the abdomen when the big cock pierces the vagina (belly boco) and the deformed expression of the throat in Deep Throat that reaches the throat (throat boco) are also made with considerable effort in this work.
Sale date April 01, 2022 0:00
Even the author
Voice actor Jemiko Yamada / Fan Masaki
Age designation
18 prohibited
Work format
movie
With audio
With music
file format
MP4
/ EXE included
Genre
3D work Lori Bukkake Creampie Fellatio Hypnosis Deep Throating Small Breasts / Small Breasts
Operating environment
The video file version can be viewed regardless of the OS on any device that supports playback.
---
5,53 GB