Details

Category: All Categories
Published on Monday, 11 April 2022 14:13
Hits: 2305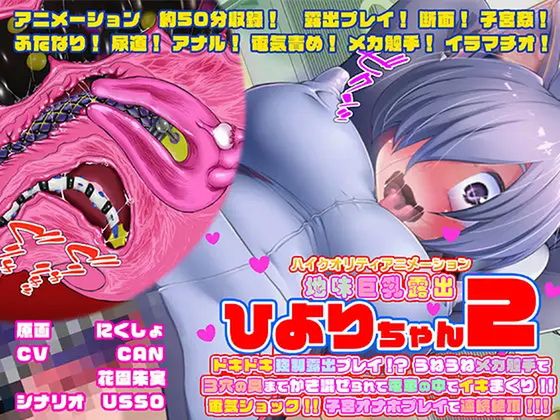 50 minutes of full-length animation recorded! We will deliver a lot of hard metamorphosis play this time as well !!
Hiyori-chan with big breasts who woke up to masturbation delivery in the previous work. This time, to the subject of the prototype of the latest masturbation machine! The goods that arrived were defective items that could not be removed until the mission was completed once attached !?
Continue to be fucked by mechanical tentacles on the train and cum continuously !! In a situation where life ends if you get caught around, the tentacles invade the urethra and anal and are stirred, and further rolled up with electric torture !!
Furthermore, the story unfolds to a hard play with her futanari sister !! Deep Throating! Anal sex! Uterus onaho play that relentlessly teases the uterus !!
* The trial version has the same content as the promotion video.
Is the hoodie + catgirl headphone type masturbation machine a defective product that causes current to flow when you try to remove it?
It can only be removed by completing the mission, so I had no choice but to follow the instructions of the machine.
Hiyori-chan on the designated train. The mechanical tentacles invade the uterus and stir violently.
There is a certain rule in the movement of the mechanical tentacles ...
The state of being violated is perfect with a cross-sectional expression!
As the train progresses, various gimmicks attack Hiyori-chan!
A huge vibe is screwed into the anal, and the mechanical vibe of the gimmick that hits the internal organs steadily in the womb rampages! Furthermore, it is forced to cum with an electric shock!
Hiyori-chan and Futanari Gikoushi-san who came to the park swallowed the chin to the back of her throat and ejaculated many times.
Hiyorichan's womb that is too masturbating and has a habit of porori. Gikoushi-san thoroughly makes it a toy. Onaho play that screwes the chin into the womb and makes it even more intense! In the main story, even more intense play will be unfolded !!
Sale date April 09, 2022 0:00
Series name Onanimation
To the author
Scenario USSO
Voice actor CAN / Akemi Hanazono
Age designation
18 prohibited
Work format
movie
With audio
file format
MP4
Genre
Cross Section Anime Train Exposed Urethra Machine Fuck Expansion Futanari
---
4,12 GB